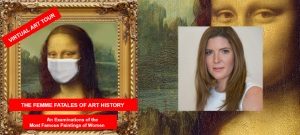 J Talks: The Femme Fatales of Art History
An Examination of the Most Famous Paintings of Women with Ronnit Vasserman
March 23 l 5:00 PM l $10
Travel with us to virtually visit museums throughout the world that are home to famous portraits of women. We will discuss the significance of each work at the time it was created and how the artwork continues to inspire and be part of popular culture. Some examples of these museum treasures include Birth of Venus by Sandro Botticelli at the Uffizi Gallery in Florence, Mona Lisa by Leonardo Da Vinci at the Louvre in Paris and Girl with a Pearl Earring by Johannes Vermeer at Mauritshuis in the Netherlands. Get ready for an unforgettable journey!
Pro tip: In honor of Frieda Kahlo, the only female artist featured in this lecture, mix yourself up a Paloma to enjoy while we explore the art.
RONNIT VASSERMAN is the founder of Art Connect Group, a full service art consulting firm located in New York. .  She has worked for many years for Investment Banks including Goldman Sachs and Merrill Lynch.  When first starting her professional career she didn't want to risk making ends meet in the art world.  After a successful career in investment banking she now dedicates her time to her favorite asset class, art.  She has a degree in Fine Arts and Art History. In addition to helping clients acquire art she educates them on all the latest trends by organizing events throughout the year. These events include studio, museum, auction house and gallery visits.