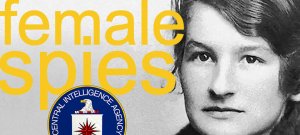 J Talks: Female Spies of WWll
Wednesday, April 21 l 3:00 PM l $10
Guest speaker Randy Burkett, CIA Staff Historian
During World War Two, one out of every three members of the legendary Office of Strategic Services (OSS) was a woman. You are invited to hear the stories of some of the women who ran operations behind the lines, conducted analysis, investigated counterintelligence threats, and conducted psychological warfare operations to help win the war. We will discuss some of the better known figures like Virginia Hall and dispel some of the myths and misunderstanding around a few who became well known later in life, including Julia Child, Margaret Mead, and Marlene Dietrich.
**Guest speaker, Randy Burkett is a career CIA Directorate of Operations (DO) officer currently on rotation to the Center for the Study of Intelligence History Staff. He previously served as the Chief of Outreach and Special Hiring Programs for the DO's Clandestine Service Hiring Division and he has held numerous assignments at CIA headquarters and in the field working in East Asia, Counterterrorism, and Counter-proliferation. He has a BA in Political Science and a MA in National Security Affairs.
*The Zoom link will be sent out on the morning of the program. We respectfully ask that you not share this link with someone outside of your household. Thank you. We look forward to your joining us!
Questions?
Contact Frieda Enoch at: fenoch@benderjccgw.org