When: Tuesday, May 7, 2019 – 8:45pm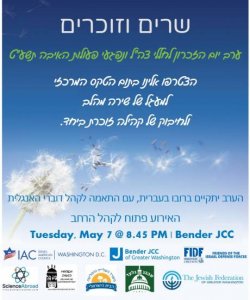 שרים לזכרם – ערב יום הזכרון לחללי צה"ל ולנפגעי פעולות האיבה 
הצטרפו אלינו מיד בתום הטקס המרכזי, לשיר ביחד לזכרם של חללי צה"ל ונפגעי פעולות האיבה. האירוע יתקיים ב-JCC ופתוח לקהל הרחב.
Erev Yom Hazikaron – IDF Fallen and Acts of Hatred Victims Commemoration Event
Please join us as we come together as a community, singing the memory of loved ones who are no longer with us.
The event will take place at the Bender JCC, immediately following the main Embassy of Israel ceremony, and is open to the public.
The event will be held in Hebrew, with adaptation to English