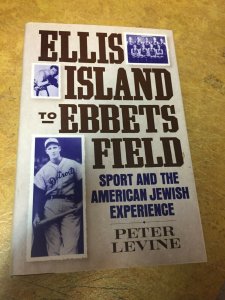 J Talks: Ellis Island to Ebbets Field: Sport and the American Jewish Experience
Please welcome author Peter Levine, who will share rich stories, anecdotes, and fascinating personalities from his book, Ellis Island to Ebbets Field.
According to Jewish Baseball News, there are currently ten major leaguers who are Jewish and most are not household names,
Not so during the first half of the 20th century, when men like Hank Greenberg, Benny Leonard, Barney Ross, and Sid Luckman became national Jewish heroes, smashing stereotypes of Jewish weakness. Second-generation Jewish men and women found in sport – both by participating in it and following the
exploits of their neighborhood and national heroes – a purchase on their own American dreams, as they determined for themselves what it meant to be Jewish in America.
You should be receiving the Zoom link on the morning of the program. Please check your Spam box if you don't receive it by 10:00 AM. We respectfully request that you not share this link with anyone outside of your household. Looking forward to seeing you on Zoom!
Questions? Contact Frieda Enoch
fenoch@benderjccgw.org
---