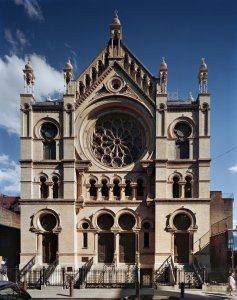 Tour of The Eldridge Street Synagogue
Monday, March 1 | 2:00pm | $10
Step inside the Museum at Eldridge Street- virtually! Join us as we explore the magnificent architecture and fascinating history of the 1887 Eldridge Street Synagogue, the first great house of worship by Eastern European Jewish immigrants in the United States. This National Historic Landmark has been lovingly restored and today is a touchstone of the Lower East Side immigrant experience. Museum docent Maxine Simson will guide you through the building's tumultuous story – from its founding and heyday, to its near-collapse and its miraculous restoration.
About the Presenter: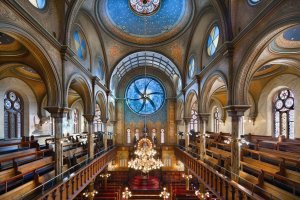 Maxine Simson is a docent and lecturer at the Museum at Eldridge Street, a National Historic Landmark building on the Lower East Side of New York City; a lecturer with the New York City Department for Aging in the metropolitan area and in South Florida; and the owner of The Natural Resources Public Relations, a full-service PR and multi-media company.
The Zoom link will be sent out on the morning of the program. Please check your Spam folder and then contact us if you have not received it by 10 AM. Please be respectful of the Bender JCC and do not share the link with anyone outside of your household. We look forward to seeing you!
Questions? Please contact Deborah Wilbur dwilbur@benderjccgw.org
If you require closed captioning for this program, please contact dwilbur@benderjccgw.org prior to registering.