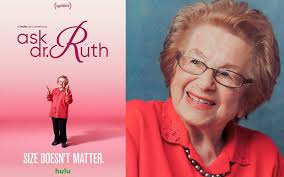 CINEMA J: ASK DR. RUTH Film Screening
Saturday, December 19 – Monday, December 21 Screen On Your Own I FREE – Registration is required
*We thank Hulu for their generosity in providing our viewers this FREE screening.
English I Documentary I 100 minutes
J TALKS: A LIVE DISCUSSION WITH A VERY SPECIAL GUEST: THE ONE-AND-ONLY DR. RUTH!
Monday, December 21 I 5:00 PM I $10
---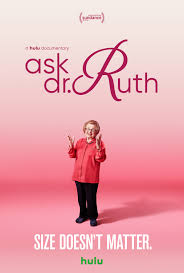 ABOUT THE FILM
"A crowd-pleasing documentary that traces the life of America's favorite diminutive sex therapist from Holocaust survivor, to a member of the Israeli Freedom Fighters, to studying at the Sorbonne in Paris, to obtaining her doctorate, to teaching, [and last, but not least,] to beloved media figure". – Variety
The film is an inspiring and entertaining portrait of Dr. Ruth Westheimer, a trailblazer, who transformed the conversation around sexuality.
*Adult Content*
Ryan White is a documentary filmmaker who directed and produced Ask Dr. Ruth, premiering in 2019 at the Sundance Film Festival. He is a director and executive producer, nominated for 2 Emmys, and winner of the Sundance Directing Award. White's other credits include several documentary TV episodes on PBS and CNN.
You will receive the film's link & password on the morning of December 19. Please check your Spam if you haven't received it by 10:00 AM.
---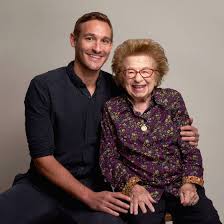 ABOUT THE LIVE DISCUSSION
MEET DR. RUTH AND DIRECTOR RYAN WHITE! With her boundless energy and spirit, and her thick German accent, Dr. Ruth [Westheimer] will share her amazing journey with us. Don't let her small stature fool you – she is a 4-foot, 7-inch giant!
In the documentary, Ask Dr. Ruth, Director White chronicles the incredible life of Dr. Ruth, a portrait of her famous career and a tale of resilience from Holocaust survivor to America's iconic sex therapist and beloved media figure.
*Adult Content*
The Zoom link will be sent out on the morning of the program. If you don't receive it by 10:00 AM, please check your Spam folder. We respectfully request that you not share this link with anyone outside of your household. Thank you – looking forward to seeing you on Zoom!
Questions?
Contact Frieda Enoch: fenoch@benderjccgw.org
*PLEASE NOTE: You will need to register separately for the talkback with the 'one & only' Dr. Ruth and the film's director, Ryan White. The link takes you to both registrations