Digging Up Armageddon: The Search for the Lost City of Solomon
May 27, 2020
8:00 PM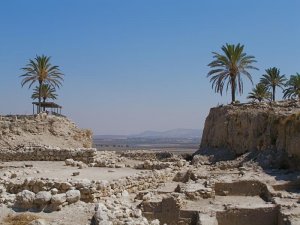 Digging Up Armageddon: The Search for the Lost City of Solomon | Eric Cline
Kathe Schwartzberg Memorial Lecture
In 1925 archaeologists from the University of Chicago's Oriental Institute began a fourteen-year excavation of the ancient site of Megiddo (biblical Armageddon), one of the most important cities in biblical times. A consequential 15th century BCE battle was fought there by Pharaoh Thutmose III against a Canaanite coalition. Another famous battle was waged there in 609 BCE between Egypt and the Kingdom of Judah, in which King Josiah fell.
Unfortunately, official publications from the Oriental Institute provide scant details behind their amazing discoveries, which include "Solomon's Stables" uncovered among twenty-six layers of ruins.
Some of the more compelling episodes in Chicago's search for Solomon's city at Megiddo will be presented in this illustrated lecture, drawn from a treasure trove of more than three decades worth of letters, cablegrams, cards, notes, and diaries. These materials shed substantial, often surprising light on the internal workings of the excavations and its discoveries, situated against the backdrop of the Great Depression and the growing troubles of the British Mandate between the two world wars.
Eric Cline is a professor of ancient history and archaeology at George Washington University. His new book, Digging Up Armageddon, will be available for purchase and signing.
Fees per lecture are
free – high school students;
$5 – Residents of CES Life Communities, college students, and co-sponsors;
$8 – BASONOVA & Bender JCC members, a
$10 – the general public.
Pay at the door – cash or check only
To subscribe to the entire 8 session lecture series for $48, or for more information, please contact BAF.JCCGW@gmail.com.