Did a Kushite Pharaoh Rescue Jerusalem from the Assyrians?
October 10, 2018
8:00 PM
Guest Speaker: Alice Ogden Bellis | Professor of Old Testament at the Howard University School of Divinity
Wednesday, October 10, 2018 | 8:00 PM | Bender JCC Social Hall
Lecture Description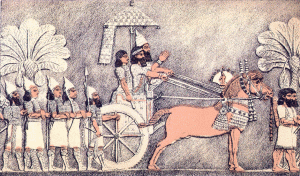 By 701 B.C.E. the Assyrians under King Sennacherib had destroyed the northern kingdom of Israel and much of Judah in the south. Only Jerusalem under King Hezekiah remained to be conquered, and it was surrounded by enemy soldiers. Without explanation, however, the Assyrians suddenly folded their tents and returned home.
Finding the reason for the survival of Jerusalem has confounded scholars for centuries. What is clear, however, is that if Jerusalem had not survived, Western civilization would have been utterly different. Proposals for the reasons have included disease among the Assyrian troops, troubles elsewhere in the Assyrian empire, the approach of the Egypto-Kushite forces and some combination of the above.
There are clues to resolving this conundrum in biblical and extra-biblical evidence, including Sennacherib's annals and the writings of Herodotus. Professor Bellis will lead us to a likely solution to this enduring mystery.
Alice Ogden Bellis is Professor of Old Testament at the Howard University School of Divinity
Reservations are not required.
Fees per lecture are:
free – high school students;
$5 – Residents of CES Life Communities, college students, and co-sponsors
$8 – BASONOVA & Bender JCC members
$10 – the general public
Pay at the door – cash or check only
For more information, please contact BAF.JCCGW@gmail.com.
Subscriptions for the BAF 2017-2018 lecture season are coming soon.