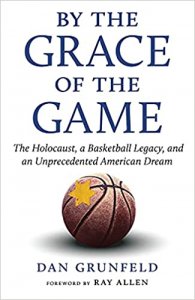 The Lessans Family Literary Series A Conversation with Dan Grunfeld, By the Grace of the Game: The Holocaust, A Basketball Legacy, and an Unprecedented American Dream
Thursday, April 28 | 7:00 PM | Free | Virtual
Join The Bender JCC as we commemorate Yom Hashoah, for a book discussion with author Dan Grunfeld. His book By the Grace of the Game is a multi-generational family epic detailing history's only known journey from Auschwitz to the NBA. Dan's DC sports legacy comes from his father, Ernie Grunfeld, former president of the Wizards. Our program will be moderated by local sports reporter, George Solomon.
ABOUT THE BOOK
From the grips of the Nazis to the top of the Olympic podium, from the cheap seats to center stage at Madison Square Garden, from yellow stars to silver spoons, this complex tale traverses the spectrum of the human experience to detail how perseverance, love, and legacy can survive through generations, carried on the shoulders of a simple and beautiful game.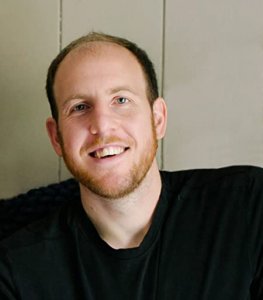 ABOUT THE AUTHOR
Dan Grunfeld is a former professional basketball player, an accomplished writer, and a proud graduate of Stanford University. An Academic All-American and All-Conference basketball selection at Stanford, Dan played professionally for eight seasons in top leagues worldwide, including in Germany, Spain, and Israel. Dan's writing has been published more than 40 times in media outlets such as Sports Illustrated, The Jerusalem Post, and NBC News. Dan earned his MBA from the Stanford Graduate School of Business in 2017 and lives with his family in the San Francisco Bay Area, where he works in venture capital.
ABOUT THE MODERATOR
In 1963, George Solomon received a B.S. in journalism from the University of Florida's School of Journalism and Communication. His career began in 1964 when he took a position as a sports reporter at the Fort Lauderdale News and Sun-Sentinel; he went on to become the Sentinel's sports editor in 1968. From 1970 through 1972, Solomon worked at the Washington Daily News. He joined the staff of The Washington Post in 1972 and was named assistant sports editor shortly thereafter. Currently, Solomon serves as assistant managing editor/sports at the Post, a position he has held since 1975.  George was inducted into the Bender JCC's Jewish Sports Hall of Fame in 1997.
Praise for By The Grace Of The Game
"Prepare to be moved and inspired by the powerful reflections he shares in this book." – Adam Silver, NBA commissioner
"Once I started to read this book, I couldn't put it down." – Wolf Blitzer, CNN anchor, and host of The Situation Room