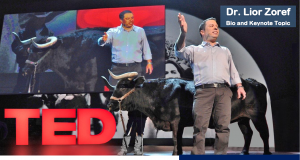 The Drink + Think Discussion Series presents provocative speakers and topics in local bars and tasting rooms. Join us for a drink and engage in moderated discussions with the Israeli artists, activists, and experts across a variety of disciplines that are making it all happen.
Thursday, March 7 | 8:00 PM | Botanero | 800 Pleasant Drive #160, Rockville, MD 20850
Topic: Crowdsourcing
Whether we need to make better business decisions, find innovative solutions to big challenges, or transform our lives, collective intelligence is the key to making quicker, wiser, more objective decisions.
Dr. Zoref is a researcher, advisor, TED speaker, and author of the best-selling book, Mindsharing: The Art of Crowdsourcing Everything. His speech at the TED 2012 Conference in Long Beach, California, was widely recognized as a conference favorite. Originally from Israel and having previously spent 14 years as a vice president in marketing at Microsoft, he is currently a researcher and advisor whose work has been featured in Fast Company, Harvard Business Review, NPR, The Huffington Post, and more.
For more information, please contact Gal Naor at 301.348.3849 or gnaor@benderjccgw.org