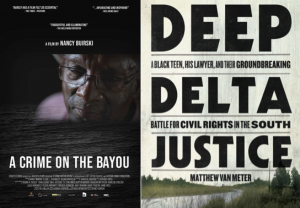 Cinema J Matinee @ Leisure World: A Crime on the Bayou
Tuesday, November 16 I 1:30 PM
Fee: $8 [in advance]; $10 [Day-of]; ONLY checks accepted on day-of ticket purchases
*Screening Location: 3300 N. Leisure World Blvd. -Clubhouse II Auditorium
*INDOORS *IN-PERSON *OPEN TO ALL
"A Crime on the Bayou" is a poignant yet inspiring true story about allyship and justice, where Richard Sobol, a young, Jewish attorney defends an unjustly accused Black teen in this landmark Civil Rights-era case. Gary Duncan, 19, was arrested in 1966 after trying to de-escalate a racially charged skirmish outside a newly integrated New Orleans high school. Archival images, court transcripts and new interviews compellingly detail how Northerner Sobol left his prestigious law firm to save a wronged man, a search for justice that led to the Supreme Court. Systemic racism and pervasive anti-Semitism meet their match in decisive courtroom battles; hate is vanquished by a powerful friendship that will last a lifetime.
At a time of national reckoning over racial inequality, Emmy-winning documentarian Nancy Buirski presents a potent argument for the power of individual action to promote social change.
*Presented by Bender JCC-CoA Adults and JRLW
Questions: Please contact Frieda Enoch:
fenoch@benderjccgw.org or at 301-348-3809