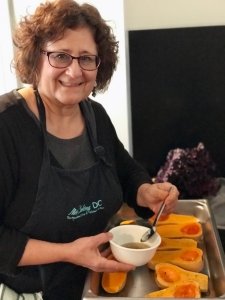 Cooking Demo and Talk | "Chillin' with Summer Soups & Salads"
Susan Barocas, chef and author
Thursday, August 13 | 10:30 – 11:45 AM | Cost: $8
Join chef/food writer Susan Barocas for this Sephardi-inspired seasonal cooking demo and talk. Cool off with some delicious recipes that highlight the summer tradition of cold soup and healthy, flavorful salads.
Chef Susan will be making Salmorejo (a chilled Spanish Tomato Soup); Summer Squash Ribbon Salad; and Chickpea Salad, while she "feeds" us some interesting tidbits about each dish.
A Zoom link and recipes will be provided one day prior to the event.
Susan Barocas is a writer, cook, teacher and speaker with a passion for healthy, no-waste cooking and Mediterranean, Middle Eastern and Jewish cuisines, history and culture. Founding director of the innovative Jewish Food Experience, Susan served as the guest chef for three of President Obama's White House Seders.