Contemporary Dance with Naama Kadosh
Starts February 16, 2021 - Ends March 9, 2021
4:00 PM & 5:00 PM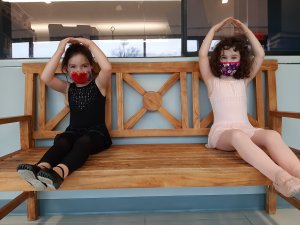 In-Person Contemporary Dance with Naama Kadosh
Tuesdays, February 16, 23, March 2 and 9
4:00 – 4:45 PM (Ages 5 – 7)
5:00 – 5:45 PM (Ages 8 – 10)
$60 Members | $65 Non-Members
ABOUT THE CLASS
In this class students will learn professional techniques of modern dance with a focus on flexibility and core muscle strength. We will also experiment with free-style movement. Students will become familiar with dance terminology and music in Hebrew.
ABOUT THE INSTRUCTOR
This class is led by Bender JCC Community Shlicha, NAAMA KADOSH. Naama has a been dancing for 22 years. She began teaching dance after leaving the army in 2015. In 2016 she completed her studies at Wingate Institute in Studio Instruction. In 2019 she completed her bachelor's degree in education and communication at Ben-Gurion University. Naama teaches dance to groups of all ages from early childhood to adults. Naama believes "that body and movement have the power to help us express ourselves, develop our creative side, release stress, acquire awareness and self-confidence and help us overcome challenges in our personal lives."
Contemporary dance is a genre of dance performance that developed during the mid-twentieth century and has since grown to become one of the popular genres for formally trained dancers throughout the world, with particularly strong popularity in the U.S. and Europe. Although originally informed by and borrowing from classic, modern, and jazz styles, it has come to incorporate elements from many more styles of dance.
This technique tends to combine the strong but controlled legwork of ballet with modern movement that stresses the torso. It also employs contact-release floor work, fall and recovery, and improvisation characteristics of modern dance.
Dress
All dancers are required to wear appropriate clothing into and around the building This includes a cover‐up for dancers of all ages and proper footwear. Fitted Tank top or leotard (any SOLID color). Top must cover midriff completely. Leggings or Shorts. Hair must be in a bun. Socks or bare feet.
Jewelry
No jewelry is permitted with the exception of small stud‐earrings. Any other type of jewelry (necklaces, bracelets, anklets, etc.) could be a hazard or distraction while dancing.