LESSANS FAMILY LITERARY SERIES PRESENTS:
Cocktails & Conversations
Matthew Goodman in conversation with Andy Pollin
Wednesday, July 22
5:00 PM | Conversation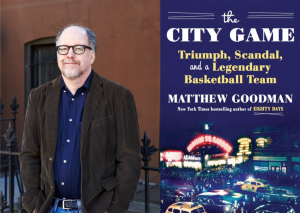 Need your sports fix? Stir up your favorite cocktail and join us for our first Cocktails and Conversations program with Matthew Goodman, bestselling author of The City Game: Triumph, Scandal, and a Legendary Basketball Team, moderated by Washington, DC local sports radio host, Andy Pollin.
Matthew will discuss his timely book which tells the powerful story of the 1949-50 City College of New York (CCNY) Beavers, the unlikeliest of champions who were extraordinary by every measure. The Beavers became the first and only team to win both the National Invitation Tournament and the NCAA Tournament in the same year. They carried an era's brightest hopes—racial harmony, social mobility, and the triumph of the underdog—but their success was overshadowed by a point shaving scandal which ultimately resulted in a shocking downfall.
The team was diverse in an era when racism and anti-Semitism ran rampant, composed of 11 Jewish players and four African Americans; all children of immigrants. Drawing on interviews with the surviving members of that championship, Goodman has created an indelible portrait of an era of smoke-filled arenas and Borscht Belt hotels, when college basketball was far more popular than the professional game. It was also a time when gangsters controlled illegal sports betting, the police were on their payroll, and everyone, it seemed, was getting rich—except for the young men who actually played the games. Tautly paced and rich with period detail, The City Game tells a story both dramatic and poignant: of political corruption, duplicity in big-time college sports, and the deeper meaning of athletic success.
A Zoom link will be provided to participants the morning of the event.
Order the book through Amazon. Or shop locally by ordering through IndieBound.org.
About the Author
Bestselling author, MATTHEW GOODMAN has written three previous books of nonfiction: Eighty Days: Nellie Bly and Elizabeth Bisland's History-Making Race Around the World; The Sun and the Moon: The Remarkable True Account of Hoaxers, Showmen, Dueling Journalists, and Lunar Man-Bats in Nineteenth-Century New York; and Jewish Food: The World at Table, A New York Times bestseller and many other publications. He lives in Brooklyn, New York, with his wife and two children.
About the Moderator
ANDY POLLIN has been working in the sports radio industry for over 40 years. He grew up in Chevy Chase, MD playing intramural sports and participating in various activities at the JCC. After graduating from BCC High School, he attended American University and fell in love with working at the campus radio station.
After spending several years working in sports radio in other areas of the country, Andy returned home to DC to launch WTEM – Washington's first all-sports station. Andy's 25 years there included long runs alongside local sports broadcasters Tony Kornheiser and Steve Czaban. With freelance stops at WJFK and WTOP between 2017 and 2019, Andy has landed at ESPN 630, the old WMAL AM. He also does sports updates on ESPN's popular Golic and Wingo show and co-hosts the Carol Maloney show.