Citizen 865 – The Hunt for Hitler's Hidden Soldiers in America
February 2, 2021
1:15 PM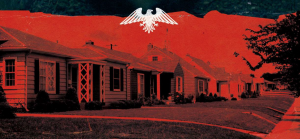 Citizen 865 – The Hunt for Hitler's Hidden Soldiers in America
Tuesday, February 2 | 1:15 PM | On Zoom
Join the JCC Men's Club for a talk by Debbie Cenziper, contributing investigative reporter, The Washington Post. The Office of Special Investigations, a small unit in a far-flung office inside the Department of Justice, is tasked with prosecuting Nazi war criminals who fled to the United States after World War II. One crucial investigation, spanning more than two decades and among the department's greatest achievements, had never been told. Debbie will relate the gripping story of Nazi hunters, against the forces of time and political opposition, pursuing WWII mass murderers hiding in the U.S. Open to the community.
– On Zoom
https://us02web.zoom.us/j/209025248?pwd=Rkdud2VNWmFSMnU5aWdyN0ZwZy9mdz09
For more information, contact Martin Frank at mfrank6999@comcast.net or 301-869-6999.
Presented by The Men's Club