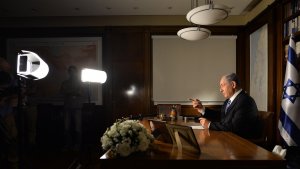 CINEMA J
King Bibi
Wednesday, September 4
6:30 PM | Pre-program reception
7:00 PM | Film
Israel, USA| Documentary | 2018 | 87 mins |Hebrew, English subtitles
On September 17 Israelis will return to the polls for government reelections after the Knesset (Israel's governing body) voted to dissolve itself following the election in April. Current Prime Minister Benjamin Netanyahu and his party are up for reelection. Learn about his rise to power and the current political system in Israel with a screening of King Bibi and an introduction by our own Israeli Shlicha, Gal Naor.
King Bibi explores Netanyahu's rise to power, relying solely on archival footage of his media performances over the years: from his days as a popular guest expert on American TV, through his public confession of adultery, and his mastery of the art of social media. From one studio to another, "Bibi" evolved from Israel's great political hope to a controversial figure whom some perceive as Israel's savior and others – as a cynical politician who will stop at nothing to retain his power.
"Fascinating insight into the media evolution of Israeli Prime Minister Benjamin Netanyahu"
– The Washington Post
It is striking to see such an elegant documentary that deals with the most burning subjects of our existence here, without being blunt and without preaching. This is a must-watch… Anyone who thinks he knows anything about Netanyahu has to watch 'King Bibi'"
– Timeout
"…carefully selected and well-edited footage, some of it quite rare, spanning Netanyahu's life and career, showing how he mastered the art of performing before a camera and built his political longevity on performance… a very fair and honest account of Israel's most controversial figure… you really must watch 'King Bibi'"
For questions: Lisa Del Sesto or call 301-348-3756.