Cinema J: The Freedom to Marry – Cancelled
February 13, 2019
7:30 PM
Cinema J Presents | The Freedom to Marry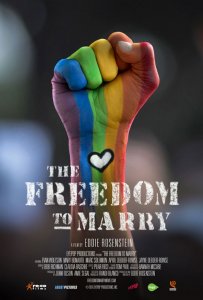 2016 | 86 minutes | Documentary
Due to low ticket sales, this screening has been cancelled.
THE FREEDOM TO MARRY follows the United States' LGBTQ community's fight for marriage equality in a  nail-biting, untold story of how same-sex marriage became law of the land. This documentary follows Evan Wolfson, the architect of the movement, civil rights attorney Mary Bonauto and their key colleagues on this decades-long battle, culminating in a dramatic fight at the United States Supreme Court.  "Suspenseful and thoroughly moving and inspiring." – The Boston Globe
This film is part of Cinema J, a monthly series featuring films through a Jewish lens.
Cost: $10.00 in advance | 12.00 at the door
For more information, contact Frieda Enoch at 301.348.3809 or fenoch@benderjccgw.org.