Cinema J Presents | RBG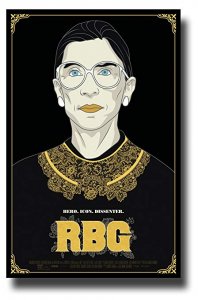 2018 | 98 minutes | Documentary
At the age of 84, U.S. Supreme Court Justice Ruth Bader Ginsburg has developed a breathtaking legal legacy while becoming an unexpected pop culture icon. RBG explores Ginsburg 's exceptional life and career, leaving you informed & inspired!
This film is part of Cinema J, a monthly series featuring films through a Jewish lens.
Cost: $10.00 in advance | 12.00 at the door
AFTER THE MOVIE
Stay after the film for an interactive Q&A with two women inspiring change in Montgomery County: Judge Sherri Koch, Sixth District Court of Maryland and Spencer Cantrell, Legal Program Director of JCADA.
PANELISTS
Sherri Koch is a judge with the Sixth District Court of Maryland. Born in Silver Spring, Judge Koch earned a Bachelor's Degree in Political Science from Brandeis University and her law degree at the University of Maryland in 1993. Among her many achievements, Judge Koch was a clerk to Judge Robert Fischer of the Court of Special Appeals, served as senior prosecutor for the special victims unit, held a number of distinguished positions within the Montgomery County Bar Associations, and was awarded the Shield/Honor/Integrity/Excellence/Leadership/Dedication (SHIELD) Award by the Anti-Defamation League before being appointed to the Sixth District Court of Maryland by Governor Hogan in 2016. She is the wildly successful mother of two fabulous BBYO teen leaders, Sydney White and Jack White, and we are thrilled she's with us this evening, please welcome Judge Sherri Koch.
Spencer Cantrell is the Legal Program Director for the Jewish Coalition Against Domestic Abuse (JCADA).  She manages JCADA's Legal and Advocacy Programs, coordinating systemic advocacy efforts throughout the community.  Prior to joining JCADA, Spencer served as law clerk for Legal Momentum's National Judicial Education Program and was a Gender Violence Fellow at the National Immigrant Women's Advocacy Project (NIWAP) which called upon the skills she developed earlier in her career working with migrant domestic workers in Hong Kong.  Spencer earned her undergraduate degree from the University of South Carolina in Women's Studies and International Studies and her law degree from George Mason University School of Law. She loved traveling with her husband, baking and spin classes.
For more information, contact Frieda Enoch at 301.348.3809 or fenoch@benderjccgw.org.