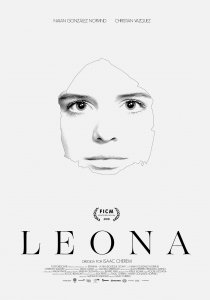 Cinema J: Leona
Monday, June 14 | 5:00 PM | $10 (includes a film screening and Q&A with Director)
Spanish (with English subtitles) | Drama | 95 minutes
Leona is an intimate, insightful, and moving film that tells the story of a young Jewish woman from Mexico City who finds herself torn between her family and her forbidden love with a non-Jewish man. He allows her to discover the world outside the bubble of her community, leading to an important transition in her adult life. Ripe with all the drama and interpersonal conflicts of a Jane Austen novel, watching her negotiate the labyrinth of familial pressure, religious precedent, and her own burgeoning sentiment is both painful and beautiful – there are no easy choices to be made and the viewer travels back and forth with her as she struggles with her heart to take the best path.
*PLEASE BE ADVISED: THIS FILM CONTAINS NUDITY AND SEXUAL CONTENT*
ABOUT THE DIRECTOR: Isaac Cherem was born in Mexico City and graduated from The Los Angeles Film School in 2011. He started working as a production assistant on film sets at the age of fifteen and in 2015 he founded Fosforescente, a production company solely focused on Mexican cinema. In 2021 he premiered Leona nationwide in the USA.
The film will be available to screen, on your own, anytime between Friday, June 11 – Monday, June 14. The screening link will be emailed to you the day before.
After watching the film, please join us for a Q&A with the Director on June 14 at 5:00 PM. The Zoom link will be sent out that morning. Please check your Spam folder if you have not received it by 10 AM.
Please be respectful of the Bender JCC and do not share the links with anyone outside of your household. We look forward to seeing you!
Questions? Please contact Deborah Wilbur dwilbur@benderjccgw.org