Challah Pre-Order Sales
May 28, 2021
9:00 - 11:00 AM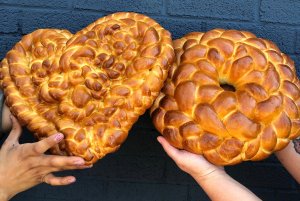 Challah-lujah!  Challah sales are back at the Bender JCC! We are excited to partner with Rosendorff's Bakery straight from Baltimore who will be providing Kosher Challah every Friday starting May 7th!
Plain, Raisin and Whole Wheat challah will be available by pre-order only for $6 each. You may pick up your challah at the JCC on Fridays between 9:00-11:00 AM or if you have a child in the pre-school, we can deliver it to your child's classroom! Orders must be placed by midnight on the Monday before the pickup date. This deadline is firm to make sure we can fulfill all orders.
---

As a part of our Delivering Good social action initiative, we are thrilled to be introducing our new "Buy-a-Challah/Give-a-Challah" program. When you buy a challah for your family, purchase an extra challah to be donated and delivered to our partner organization, the Jewish Foundation for Group Homes. We hope you will consider participating. After all, bread is best served shared.