CINEMA J Presents: Challah Rising in the Desert: The Jews of New Mexico
October 7, 2021
7:00 PM
Purchase Tickets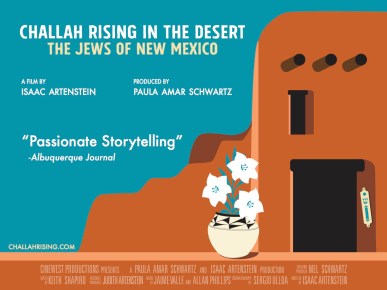 CINEMA J Presents: Challah Rising in the Desert: The Jews of New Mexico
Documentary | USA (2018) |84 minutes
At the Bender JCC: Thursday, October 7 l 7:00 PM | $12
Please join us at the Bender JCC for a screening of Challah Rising in the Desert: The Jews of New Mexico.  This event will take place inside the Kreeger Auditorium. This documentary celebrates the history, influences and people of New Mexico's Jewish community. From green chile challah and Navajo-styled prayer shawls to rabbis in cowboy boots and bolo ties, this unique population drew from waves of immigration.  It includes the Conversos escaping the Spanish Inquisition, scientists of the 1940s at Los Alamos, and the counterculture of the 1960s.
This unknown story is vibrantly told through rare archival materials, magnificent imagery of New Mexico's natural beauty, as well as interviews with community leaders, historians, and descendants of early colonial and pioneer Jews.
We are excited to partner with Shalom's Kosher to bring kosher challah to our program.
*Purchase tickets by 9/30/21 to receive a complimentary kosher challah.  Challah is not available when purchasing tickets at the door.
Questions? Please contact Marcie Blackman at mblackman@benderjccgw.org or 301-348-3808