CHAGALL: The Quintessential Jewish Artist of the 20th Century
February 25, 2021
2:00 PM
Purchase Tickets
CHAGALL: The Quintessential Jewish Artist of the 20th Century
Thursday, February 25 | 2:00pm | $10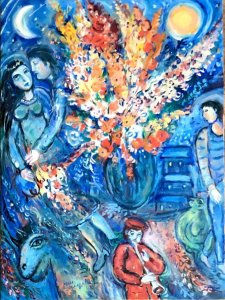 Marc Chagall was a Russian-French artist who worked in a variety of media but is most renowned for his paintings. During his time, he was the foremost Jewish artist in the world and has since been referred to as "the quintessential Jewish artist of the twentieth century". Chagall is best known for his vibrant use of color to attract the viewer's attention. His artworks are usually lively and imaginative and often combine Cubism and Fauvism with his folkish style. This lecture will cover his most iconic works. Back by popular demand, Ronnit Vasserman will join us to explore how the places he lived, his personal background, and current events impacted his art.
About the Presenter:
RONNIT VASSERMAN is the founder of Art Connect Group, a full-service art consulting firm located in New York. She has worked for many years for Investment Banks including Goldman Sachs and Merrill Lynch. After a successful career in investment banking, she now dedicates her time to her favorite asset class, art. She has a degree in Fine Arts and Art History. Ronnit presents a variety of events including studio, museum, auction house, and gallery visits.
The Zoom link will be sent out on the morning of the program. Please check your Spam folder if you have not received it by 10 AM. Please be respectful of the Bender JCC and do not share the link with anyone outside of your household. We look forward to seeing you!
Questions? Please contact Deborah Wilbur at dwilbur@benderjccgw.org