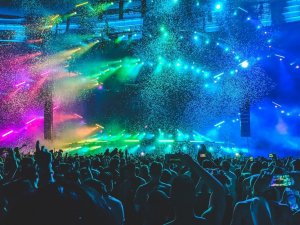 Celebrate Israel with us!
May 14 | 8 PM | Bender JCC of Greater Washington | Adult Party | $28
Registration is closing on Friday, May 13 at 5 PM.
Limited tickets for $35 are available at the door on Saturday, May 14. Vaccination cards are required. Yom Ha'atzmaut is the national day of Israel, commemorating the Israeli Declaration of Independence in 1948. It is celebrated in Israel and around the world with dancing, music, fireworks, parties and traditional Israeli food. This year, the Bender JCC will celebrate Israel's Independence Day with an evening filled with joy and entertainment. Come and enjoy an adults-only evening party designed to bring people together in celebration. Everyone is welcome! Highlights Include: • DJ – International, classic and current music!! • Israeli Folk dancing with Moshe Shem Tov • Zumba Dancers • Open Bar (Beer & Wine) • Israeli style Hors D'oeuvres & Snacks • Photo Booth with fun props • Indoor and outdoor seating areas • Ecstatic Atmosphere!! Limited tickets are available. Purchase your tickets today! Vaccination cards are required.

For further information, or if you have trouble purchasing tickets, please contact Maytal Regev at mregev@benderjccgw.org or call 301.348.3843
Our registration works best in Google Chrome.
Additional information on how to register