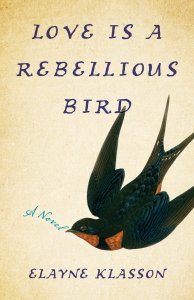 The Lessans Family Literary Series Presents BYOB with Elayne Klasson, Love is a Rebellious Bird
Tuesday, February 9 | 4:00 PM | $10
Join our February BYOB program with debut novelist, Elayne Klasson. Bring questions and opinions to share with fellow book lovers and the author herself. Elayne will give a short presentation on her first novel, Love is a Rebellious Bird, and then we will open it to our participants to continue the conversation.
In her bold book, author Elayne Klasson, dives into what it means to sacrifice everything you've ever known for a chance at happiness. Love is a Rebellious Bird follows Judith, a smart and strong woman, who is driven to pursue a man she has loved since childhood. This tale of a sixty-year love affair examines the age-old question of why we love the people we do. A beautiful, charismatic and wildly successful man is adored by a woman. Even as children growing up together in Chicago's Jewish north side neighborhoods, attending Jewish youth groups and summer camps, he held the power. Never married to each other, but bound throughout their lives by tragedy and friendship, Elliot defined the terms of their relationship, until finally, in old age, the power shifts. Kasson explores the depth, the passion, and the unreliability of a fierce young love aged over time in the life of a bright and complicated woman.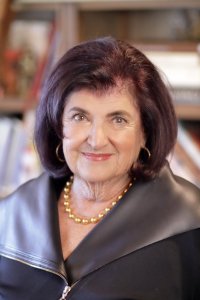 ELAYNE KLASSON grew up in Chicago. She graduated from Ohio State University and the University of Michigan—where she earned a Masters of Public Health and a Ph.D. in Psychology. For several years she lived in Barbados, West Indies, working as a health care consultant with Project Hope; then returning as a writer and columnist for the Barbados Daily Nation. Her professional career has largely been in academia at San Jose State University, with her research and clinical area of expertise being the severely mentally ill. A recent transplant to the Santa Ynez Valley, near Santa Barbara, California, she is a popular lifestyle newspaper columnist there. Elayne has appeared on San Francisco public television as a restaurant critic. She's been awarded several writer's residencies, including Hedgebrook Writers' Colony on Whidbey Island, Washington, and Villa Montalvo in Saratoga, California. Her debut novel, Love is a Rebellious Bird, is her first to be published. She daily walks her young dachshund and aged fluffy white rescue through nearby vineyards. Married to David, a scientist, they have five children between them, all grown.
Love is a Rebellious Bird can be ordered through Politics & Prose, a local bookstore in Washington, DC. Books ordered through Politics & Prose will include a signed bookplate. Click here to order the book and use the Bender JCC's 10% discount, SPECIAL10.