Book Fest in Your Living Room Presents Harlan Coben, The Boy from the Woods
October 25, 2020
8:00 PM
Purchase Tickets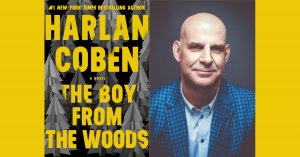 Book Fest in Your Living Room Presents Harlan Coben, The Boy from the Woods
Sunday, October 25 | 8:00 pm EST
Harlan Coben, The Boy from the Woods In Conversation with Emily Giffin, New York Times Bestselling Author
ZOOM Webinar Author Talk + Q & A
Tickets: $23 for one virtual ticket and paperback copy of book (shipping included)
A man with a mysterious past is asked to find a missing teenage girl in this shocking thriller from the #1 New York Times bestselling author of Run Away. Thirty years ago, Wilde was found as a boy living feral in the woods, with no memory of his past. Now an adult, he still doesn't know where he comes from, and another child has gone missing. Naomi Pine's disappearance is not taken seriously, not even by her father — but Hester Crimstein, a television criminal attorney who knows through her grandson that Naomi was relentlessly bullied at school, asks Wilde — with whom she shares a tragic connection — to use his unique skills to help find the child. In order to find her, he must venture back into a community where he never fit in and where the powerful are protected even when they harbor secrets that could destroy the lives of millions…secrets that Wilde must uncover before it's too late.
With over 70 million books in print worldwide, Harlan Coben is the #1 New York Times author of thirty-one novels including The Boy From the Woods, Run Away, Fool Me Once, Tell No One and the renowned Myron Bolitar series. His books are published in 43 languages. He is the creator and executive producer for the Netflix television dramas The Stranger, based on his novel, Safe, and several others.
*All books are shipped after the event (domestic shipping only) and can take up to 10 business days to receive due to COVID-19 postal service delays. Books are not shipped on the day of the purchase.
Presented in partnership with the JCC Literary Consortium