Book Fest in Your Living Room Presents Rachel Bloom, I Want to Be Where the Normal People Are
November 19, 2020
8:00 PM
Purchase Tickets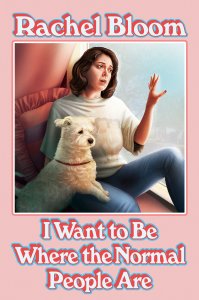 Lessans Family Literary Series Presents Book Fest in Your Living Room
Rachel Bloom, I Want to Be Where the Normal People Are
Thursday, November 19 | 8:00 PM EST
Rachel Bloom, I Want to Be Where the Normal People Are
Music and Multi-Media Presentation!
Presented in partnership with the JCC Literary Consortium
Tickets: $11 for one virtual ticket or $36 for one virtual ticket and copy of the book (shipping included)*
Rachel Bloom has felt abnormal and out of place her whole life. In this exploration of what she thinks makes her "different," she's come to realize that a lot of people also feel this way; even people who she otherwise thought were "normal." In a collection of laugh-out-loud funny essays, all told in the unique voice (sometimes singing voice) that made her a star; Rachel writes about everything from her love of Disney, OCD and depression, weirdness, and Spanx to the story of how she didn't poop in the toilet until she was four years old; Rachel's pieces are hilarious, smart, and infinitely relatable (except for the pooping thing).
Rachel Bloom is best known as the star and co-creator of the CW musical dramedy, Crazy Ex-Girlfriend, for which she earned a Golden Globe and Critics Choice Award for her performance as "Rebecca Bunch" as well as an Emmy Award for the show's songwriting. As a live performer, she has sold out Radio City Music Hall and The London Palladium and recently had a residency at the Just for Laughs comedy festival. In April, she starred in the movie Trolls World Tour as "Barb." She will be writing the music and lyrics for The Nanny on Broadway.
*All books are shipped after the event (domestic shipping only) and can take up to 10 business days to receive due to COVID-19 postal service delays. Books are not shipped on the day of the purchase.
Presented in partnership with the JCC Literary Consortium