Cinema J: "Bess Myerson: The One and Only Jewish Miss America" Film & Discussion
March 22, 2021
5:00 PM
Purchase Tickets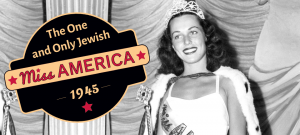 Cinema J: Bess Myerson – The One and Only Jewish Miss America
Film Screening and Talkback
English l Documentary l 60 minutes
Monday, March 22 l 5:00 PM l $10
This fascinating documentary follows Bess Myerson from her childhood in the Sholom Aleichem housing project in the Bronx, to the eventual surprise victory of the Miss America title in 1945. Though she was confronted with Anti-Semitism, Myerson exhibited courage and determination to fight prejudice and injustice.
Our guests for the talkback are Director David Arond, MJH Board of Trustees Vice Chairman and ADL National Director Emeritus and Bess Myerson's daughter, screenwriter and actress Barra Grant.
*On Friday, March 19, you will receive a link to screen the film, Bess Myerson: The One and Only Jewish Miss America. Watch it on your own any time between Friday, March 19 and Monday, March 22. (Please screen it before the discussion.)
*Join us virtually on Monday, March 22, at 5:00 PM for the talkback and Q&A.
*You will receive the link on the morning of March 22.
Questions?
Contact Frieda Enoch: fenoch@benderjccgw.org