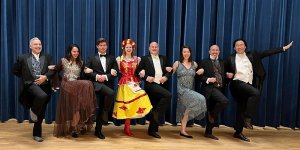 Bel Cantanti Opera Company
"Die Shone Mullerin"
Friday, May 27 | 7:30 PM
Sunday, May 29 | 3 PM
At the Bender JCC, 6125 Montrose Road, Rockville
Tickets $40
Bel Cantanti Opera presents "Die Shone Mullerin", Franz Schubert's "novel in songs," tells the story of a young man's budding love for a beautiful maid, the miller's daughter. The courtship is depicted through an innovative production of singing and dancing (The Olney ballet), and through immersive streamed images and live illustrations surrounding the actors.
The original piano accompaniment is replaced by an orchestrated arrangement by a chamber assemble to enhance the immersive experience. Our staged performance will be sung in German with projected English supertitles. Baritone, Robert McGinness performs the cycle of twenty songs. Accompanied by the chamber ensemble with BCO Artistic Director Dr. Katerina Souvorova leading at the piano.
Nature: brook, flowers, soloists – The Olney Ballet, choreographed by Erica Molina Hudak.
Live illustrations painted by Ksenya Litvak.
Light Design – Brydon Geisler.