VIRTUAL GOLDMAN ART GALLERY: ALAN SIMMONS "THROUGH MY LENS"
We are thrilled to again feature photographer, Alan Simmons, and his newest exhibit, "Through My Lens". The exhibit features over 60 beautiful photographs from Europe, the Middle East, and North America. Please join us for a free virtual program with Alan on February 23, at 5:00 PM. Alan will discuss the exhibit and present some of his favorite pieces. The artwork will be available for sale through the Bender JCC Website.
---
ALAN SIMMONS
BIOGRAPHY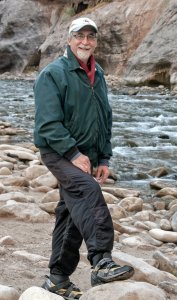 My interest in photography heightened when I embraced the digital era in 2003 with my first digital single-lens reflex camera.  With this new technology, photography developed into a constant source of fascination and an outlet for expressing how I see the world.  Peering through the viewfinder, I am captivated by the endless artistic possibilities that can be created with a visually interesting perspective.  I continually strive to improve my artistic expression and wish to thank Doug Johnson and Tim Cooper with the Rocky Mountain School of Photography, Tony Sweet, Susan Milestone, Joseph Rossbach, Margaret Paris and Jeff Sutton for sharing their insights and enthusiasm for this fulfilling art form.  Their guidance and helpful suggestions to improve my personal vision continue to be of enormous benefit.
I am a member of the North Bethesda and Gaithersburg Camera Clubs located in Montgomery County, MD, and displayed my images in numerous juried exhibits in affiliation with these organizations.  My images also appeared in solo and joint exhibits at local venues including Waverly Street Gallery, VisArts Center of Rockville, Glenview Mansion Art Gallery, Washington School of Photography, Pyramid Atlantic Art Center, Penn Camera, Bradley Hills Presbyterian Church, Kentlands Mansion Art Gallery, FotoDC, Mac Business Solutions, and the Bender JCC of Greater Washington Goldman Art Gallery.  In addition, I am a recipient of a Single Image Award in both 2017 and 2018 and a Portfolio Merit Award in 2014 for images published in Black & White Magazine.
I enjoy landscape and architectural photography and traveled throughout the United States and abroad to Israel, Turkey, France, Spain, Italy, Greece, Jordan (Petra), Great Britain, Canada (Nova Scotia), and Iceland.
I am a member of the Photographic Society of America, the North American Nature Photography Association, Nature Photographers Network, and NatureScapes.net.
I am a native of Washington, DC and reside in Rockville, Maryland.
Please visit www.alansimmonsphotography.com to view my work and for contact information.
---
ALAN SIMMONS
ARTIST STATEMENT
Photography is an intensely passionate endeavor through which I interpret and express a personal vision of what I observe around me with the goal of creating images that are artistically appealing.  I may find inspiration in a solitary tree on an isolated beach, in the glorious colors of the seasons, or in the natural beauty and vastness of the mountains and environs. But more importantly, traveling with my camera frees me to embark on new adventures, to feel the exhilaration of discovery, to interact with and to form new relationships with people I meet, and to capture memories and happy moments of life.
"Through My Lens:  Scenic Destinations," the theme of this exhibit, is a compilation of images that conveys my personal impressions of the special places I visited.  I will be presenting and discussing a body of color images taken during my travels throughout the United States and locations abroad including Iceland, Nova Scotia, Jerusalem Santorini, Istanbul, Paris, and Rome.
My intent for this presentation is to share stories about the images that have an interesting composition and that communicates the attraction I feel for the subject matter I have photographed.  At the end of this presentation, I would hope the audience feels a connection to these images and experiences a moment of reflection.