Archaeology in Israel: Where the Past Meets the Present
April 23, 2020
8:00 PM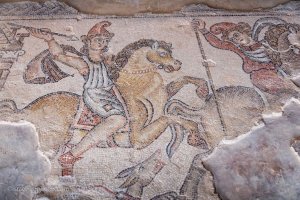 Archaeology in Israel: Where the Past Meets the Present | Eric Meyers and Carol Meyers
Archaeology is commonly understood as the study of past human life undertaken by analyzing material remains. What is not usually recognized is that the archaeological quest for the past is inevitably shaped by the excavators' present environment. Moreover, archaeology can serve a variety of purposes, in addition to the recovery of ancient cultures.
This presentation will analyze findings at several ancient key sites in Israel to illustrate the intersection between the discoveries there and the pressures of the modern world. Highlighted excavation sites include Masada, Hazor, Beth Alpha (on the northern slopes of the Gilboa mountains near Beit She'an), Jerusalem, and Sepphoris (located in the Galilee). The excavation of these well-known sites – all national parks in Israel – exemplify the ways excavators respond to contemporary issues and problems.
Eric Meyers is an emeritus professor in Judaic Studies at Duke University
Carol Meyers is an emeritus professor of Religious Studies at Duke University
Fees per lecture are
free – high school students;
$5 – Residents of CES Life Communities, college students, and co-sponsors;
$8 – BASONOVA & Bender JCC members, a
$10 – the general public.
Pay at the door – cash or check only
To subscribe to the entire 8 session lecture series for $48, or for more information, please contact BAF.JCCGW@gmail.com.