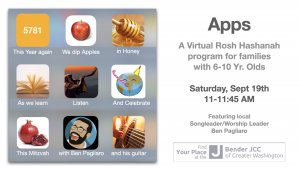 Apps – A Virtual Rosh Hashanah
11:00 AM
$15 Virtual Ticket Link
We invite you to spend a meaningful morning and share in a community-wide Rosh Hashanah celebration with your 6-10 year old.
Lean into technology with our NEW interactive musical program hosted by Songleader Ben Pagliaro. His hip-hop style and upbeat rhythms will connect you and your kids together at home with the renewed spirit of the New Year.
We will send a Zoom link prior to the event.