Ancient Roman Baths: Centers for Political Propaganda
September 18, 2019
8:00 PM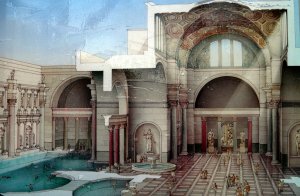 Ancient Roman Baths: Centers for Political Propaganda | Maryl Gensheimer
Public bathing was a highlight of the day and a major social event throughout the Roman Empire.  Join us for an illustrated exploration of one of the largest and best-preserved Roman bath complexes, the Baths of Caracalla (inaugurated 216 CE).
Its monumental construction required 2,000 tons of material every day for six years, employed thousands of laborers and held up to 1,600 bathers. The complex included a central cold room, a double pool of tepid water, and a sauna, as well as two gyms where wrestling and boxing were practiced. The building contained an Olympic-sized, roofless swimming pool with bronze mirrors mounted overhead to direct sunlight into the pool area.
An analysis of the Baths' extensive decorative program, particularly the free-standing sculptures and mosaics, illuminates the monument's original appearance and also addresses the ways in which decorative materials and motifs were carefully chosen by Emperor Caracalla as political propaganda to consolidate his power and popular reputation.
Maryl Gensheimer is Assistant Professor of Roman Art and Archaeology at the University of Maryland.
Fees per lecture are
free – high school students;
$5 – Residents of CES Life Communities, college students, and co-sponsors;
$8 – BASONOVA & Bender JCC members, a
$10 – the general public.
Pay at the door – cash or check only
To subscribe to the entire 8 session lecture series for $48, or for more information, please contact BAF.JCCGW@gmail.com.