Warfare and Mercenary Forces in the Age of Amorites
June 9, 2021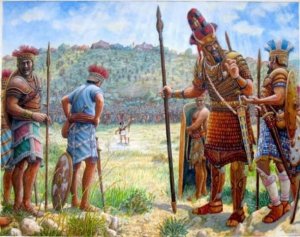 Wednesday, June 9, 2021, at 8 pm EST via Zoom
Warfare and Mercenary Forces in the Age of Amorites
Aaron Burke, UCLA
Warfare on a vast scale across much of the ancient Near East throughout the Middle Bronze Age (2000–1550 B.C.E.) was a major element of the so-called Age of Amorites. Military engagements usually took the form of siege warfare. This battlefield tactic evolved into a highly formalized and very consistent style, propelled by the intense competition and emulation that undergirded interstate relations during this period.
New inventions such as the composite bow, chariot, and siege equipment became common, and as a result, were even adopted in Egypt by the end of the period. In addition, the Middle Bronze Age saw increasing employment of mercenary units whose emergence during the late third millennium can be directly tied to the relative insecurity that pervaded the ancient Near East in the wake of the collapse of the Old Kingdom in Egypt and the fall of Akkad in Mesopotamia.
By the start of the Middle Bronze Age, military positions such as the "chief of the Amorites" and "scribe of the Amorites" suggest an increasingly formal dependence on organized mercenary units embedded within the militaries of states from Mesopotamia to Egypt. Indeed, reliance on such units has even been recently suggested as the reason behind the actual decline of Babylonian power, rather than a Hittite invasion of southern Mesopotamia.
---
BAF and its sister organization in Northern Virginia (BASONOVA), are delighted to announce a joint resumption of their lecture series on the ancient Near East and Eastern Mediterranean. This series will be broadcast "live" via Zoom, and "attendees" will be able to direct questions of the presenters.
How to Access the Lecture Series
We will announce additions to the line-up of presenters on a regular basis, as it is our aim to offer more than one event each month. Members will also receive a regular listing of recommended lectures in the public domain.
If you wish to subscribe to the series*, please access the BASONOVA PayPal portal and use a credit card for a one-year subscription ($35 per family). Go to: http://www.basonova.org/membership-form.html
It is also possible to access the series one lecture at a time, for $6 per lecture. To receive your single-lecture Zoom invitation, go to: http://www.basonova.org/next-lecture-reservation.html
*Maryland residents will be enrolled in BAF and Virginians will be enrolled in BASONOVA. There is no advantage in enrolling in one group versus the other, only that when in-person lectures begin again you will be apportioned to the group that matches your state of residence.