100 Days of Summer Fitness Challenge
Starts May 27, 2019 - Ends September 2, 2019
The JCC Association's 100 Days of Fitness is a continent-wide challenge for JCCs to connect with each other in this shared, competitive event.  Participate in the Bender JCC's team for national bragging rights and awards through weekly log-ins.  Participating JCCs like ours will run local challenges while JCC Association of North America will run a continental-wide challenge.
Go head-to-head with JCC participants across the continent in your favorite form of exercise. Whether you're into strength training, running, group exercise, swimming, or something else, you'll have a chance to test your mettle.  #JCCSummerFitChallenge, Make sure you're part of the action.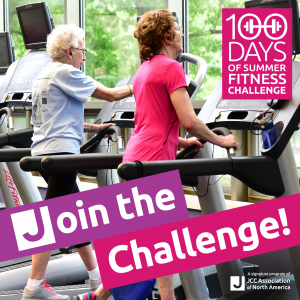 Register with JCCA (register anytime this summer!)
Sign Up at the Bender JCC:
Contact Jaimi Jones, Personal Trainer and Challenge Manager – with the following information:
Name
Email
Type of exercise
Submit the following information for each entry*:
Name
Email
JCC
Date Exercised
Type of Exercise
Amount Exercise
Individuals will log miles/yards/classes attended through our online form:
Running (indoor and outdoor)
Walking (indoor and outdoor)
Cycling  (indoor and outdoor)
Swimming
Cardio Equipment (ellipticals, rowers, steppers, etc.)
Group Fitness (any type of class)
Strength Training
Personal Training
*NOTE: Each workout needs to be recorded within 7 days. Data will not be accepted after 7 days.
Share your journey: #JCCSummerFitChallenge
Contact Jaimi Jones, Personal Trainer and Challenge Manager for more information.
---
Summer Wrap Up Fitness Challenge – with Personal Trainer, Mike Holmes
August 1 – August 31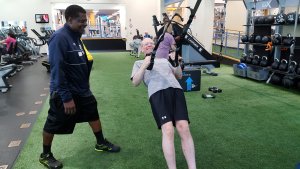 Exercise challenge: Members participate in a variety of group exercise classes and designated 'Workouts of the Day' posted in the fitness center. Check in and out with our fitness center staff to win the most points for the month.
Cardio: Circuit or Spin / 40 points per class
Mind: Yoga or Pilates / 20 points per class
Body: Strength Class OR Workout of the Day / 50 points per class/workout
Contact Personal Trainer Mike Holmes, holmesfitness2
@gmail.com
for questions.
Did you register for 100 Days of Fitness Challenge to compete with other JCCs across the country? Don't forget to log your workouts! Finish strong by participating in the Summer Wrap Up!