100 Days of Summer Fitness Challenge
Starts May 27, 2019 - Ends September 2, 2019
The JCC Association's 100 Days of Fitness is a continent-wide challenge for JCCs to connect with each other in this shared, competitive event.  Participate in the Bender JCC's team for national bragging rights and awards through weekly log-ins.  Participating JCCs like ours will run local challenges while JCC Association of North America will run a continental-wide challenge.
Go head-to-head with JCC participants across the continent in your favorite form of exercise. Whether you're into strength training, running, group exercise, swimming, or something else, you'll have a chance to test your mettle.  #JCCSummerFitChallenge, Make sure you're part of the action.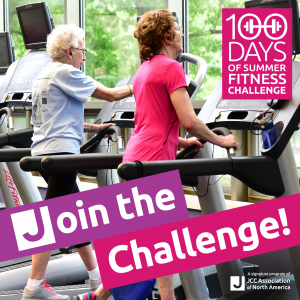 Register with JCCA (register anytime this summer!)
Sign Up at the Bender JCC:
Contact Jaimi Jones, Personal Trainer and Challenge Manager – with the following information:
Name
Email
Type of exercise
Submit the following information for each entry*:
Name
Email
JCC
Date Exercised
Type of Exercise
Amount Exercise
Individuals will log miles/yards/classes attended through our online form:
Running (indoor and outdoor)
Walking (indoor and outdoor)
Cycling  (indoor and outdoor)
Swimming
Cardio Equipment (ellipticals, rowers, steppers, etc.)
Group Fitness (any type of class)
Strength Training
Personal Training
*NOTE: Each workout needs to be recorded within 7 days. Data will not be accepted after 7 days.
Share your journey: #JCCSummerFitChallenge
Contact Jaimi Jones, Personal Trainer and Challenge Manager for more information.