Rockville Open House (ROH) a safe space gathering for lesbian, gay, bisexual, transgender, and queer (Q+) teens, and their friends and allies, between the ages of 13-18 years old.
Upcoming Meetings
ROH meetings happen every other week, on Wednesday, from 6 – 8 PM, at the Bender JCC of Greater Washington Teen Lounge.
Meeting Dates
February 13
February 27
March 13
We hope you join us for interesting conversations, new perspectives, and a supportive open environment!
---
UPCOMING EVENTS
Cinema J Presents | The Freedom to Marry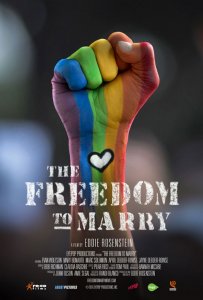 2016 | 86 minutes | Documentary
THE FREEDOM TO MARRY follows the United States' LGBTQ community's fight for marriage equality in a  nail-biting, untold story of how same-sex marriage became law of the land. This documentary follows Evan Wolfson, the architect of the movement, civil rights attorney Mary Bonauto and their key colleagues on this decades-long battle, culminating in a dramatic fight at the United States Supreme Court.  "Suspenseful and thoroughly moving and inspiring." – The Boston Globe
This film is part of Cinema J, a monthly series featuring films through a Jewish lens.
Cost: $10.00 in advance | 12.00 at the door
For more information, contact Frieda Enoch at 301.348.3809 or fenoch@benderjccgw.org.
---
Contact Us
For more information, please contact;
Gai Kaufman or call 301-348-3770