Joanie Steinberg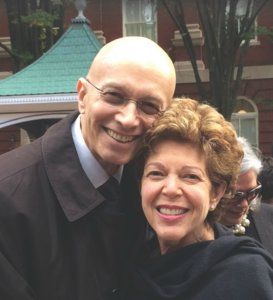 Joanie Steinberg is a participant in the hybrid fitness class — a mix of strength, yoga, Pilates and balance work-geared toward improving flexibility and enhancing state of mind for those with Parkinson's.
Among the many fitness programs offered by the Bender JCC are classes like hybrid fitness for the Parkinson's community. Held in partnership with MedStar Georgetown University Hospital as part of The Edmond J. Safra National Parkinson's Wellness Initiative of the National Parkinson Foundation, the program is designed to improve the lives of those impacted by Parkinson's disease through fitness, support, education and socialization.
"The people running the program and the instructors are extremely dedicated and interested in making it a successful and helpful experience for all involved," Joanie states. "I think it's awesome that the Bender JCC offers this program to the community."
Dawn Hubbard-Powell, Health & Fitness Director. says that our Parkinson's Wellness Initiative classes are highly valued by those we serve. "The chance to connect with others who are going through similar experiences helps our participants realize that they are not alone. They show us that it is possible to thrive with Parkinson's. It's inspiring to be a part of this initiative!"
This story is one of many examples of how the Bender JCC provides a warm and welcoming place for those of all abilities, and is committed to improving the quality of life for all.
The Jauss Family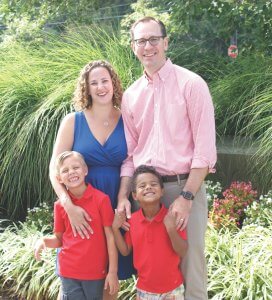 Lindsay and Fred Jauss joined the Bender JCC when their older son. now 7, was 2 years old and they were looking for a preschool.
"The biggest selling point for us is how loved and safe our children feel in the community. The JCC is a truly inclusive and welcoming place for a diverse population. The teaching staff is second to none."
As an interfaith couple [Lindsay isJewish and Fred is Catholic]. Lindsay says that they appreciate  how the preschool weaves Judaism into the everyday.
"Children are taught the foundations of Judaism- kindness. caring…things we all can strive for. The tone and language used by the staff focus on inclusiveness for all sorts of families."
This story is one of many examples of how your support enriches lives and enables us to embrace and welcome the diversity of our community. There's something about this place.
Lee Greenwald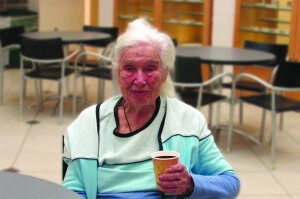 "Just because I'm blind doesn't mean I can't see what's important," says Lee Greenwald, 91, a regular participant in Bender JCC's senior adult programs.
A Bethesda resident, Lee used to take public transportation to the Bender JCC. Now that it's harder for her to get around due to her vision impairment, she appreciates the specialized "door-through-door" transportation service funded by Bender JCC that enables her to attend activities here twice a week.
Lee enjoys all aspects of the Bender JCC's senior adult program, from chair exercise to a delicious hot kosher lunch to entertainment by talented performers. She's also thinking about taking a ceramics class here. For Lee, it's really about getting out of the house and meeting new people.
This story is one of many examples of how your support enriches lives.
Zac Tolin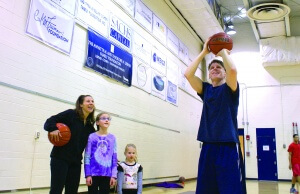 Zac Tolin claims that he has shot more baskets in the Bender JCC's gym than anyone else.
"Let's see…100 baskets a day x five days a week x 52 weeks a year x 44 years = 1,144,000 baskets."
Zac is part of a four generation family that calls the Center a second home. From his grandfather participating in Bender JCC programs when he lived at the Hebrew Home to his parents standing at the grand opening ceremony in 1969 to meeting his wife while working out in the fitness center in 1993, and now his kids regularly taking part in classes, Camp JCC, swimming and much more.
Zac's story is one of many examples of how your support enables us to be a place of celebrations, connections, education, friendships and healthy bodies…for life.
Moms' Group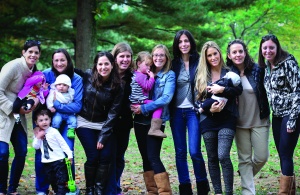 For Ali Levingston, becoming a parent for the first time was an exhilarating experience. It was also overwhelming, which is why it is often helpful to have other new parents with whom to celebrate and – occasionally – commiserate. The Bender JCC's Bender-Dosik Parenting Center is proud to serve as a catalyst for so many young families in our community to form lifelong connections, offering experiences to grow as Jewish parents. Ali found her community here three years ago when she formed close and lasting friendships with several other moms.
"I am grateful to the Bender JCC for bringing us all together. When we were first-time moms, it was so important to have other mothers to share experiences with and offer support, advice and humor."
This story is one of many examples of how your support enables us to be a place of celebrations, connections, education, friendships and healthy bodies….for life.
Chiara Jaffe, and son, Jake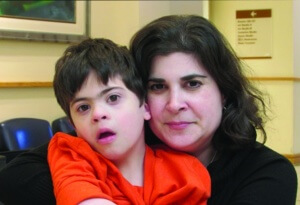 "My 8-year-old son, Jake, has Down syndrome and requires additional support to address his special needs. Jake has limited opportunities for interactions with typical peers during the school day.
That all changes after school when Jake attends Kids After School (KAS) at the Bender JCC. Here, Jake is fully included in all activities thanks to his amazing counselors, and the wonderful director of special needs and inclusion who keeps on top of anything going on in his life that may impact his after-school experience. All of the counselors, not only Jake's assigned ones, go out of their way to get to know Jake and to promote interactions between him and his typical peers.
When I pick Jake up from the Bender JCC in the evenings, he has a huge smile on his face. As we say goodbye and I help him into the car, I say to myself, 'I love this place.'" ─Chiara Jaffe