Exhibit
Gallery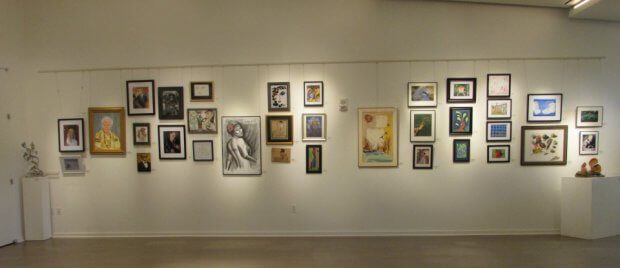 A Lifetime of Perspective: Art by Older Adults
April 15 - May 6, 2018
This is the twentieth anniversary of an exhibition of works by senior adults featuring paintings, photography, sculpture, crafts and jewelry.
From the Exhibition Sponsors
David Berliant, father and grandfather, was an avid "Sunday painter;" his wife, Eve, was his most devoted fan. Their love of art has been passed down to us, their children, grandchildren and great-grandchildren. In their honor, we want senior artists to have the opportunity to display their talent and share it with their loved ones.
From the family of David and Eve Berliant: Deena Berliant Kaplan, Jerome A. Kaplan, Karen E. Kaplan, Jessica M. Kaplan, Joseph Youcha, Carolyn K. and Steven H. Bernstein.
This Exhibit is Supported By:
The Berliant-Kaplan Endowment Fund. Additional support for this and other Gildenhorn/Speisman Center for the Arts (GSCA) programs is provided by a grant from the Maryland State Arts Council, an agency dedicated to cultivating a vibrant cultural community where the arts thrive. Funding for the Maryland State Arts Council is also provided by the National Endowment for theArts, a federal agency, which believes that a great nation deserves great art. The Bender JCC is also supported in part by funding from the Montgomery County government and the Arts and Humanities Council of Montgomery County, the County Executive's Ball for the Arts and other private sources.