Rediscovering the Lost Library of Alexandria
December 13, 2017
8:00 PM
Guest Speaker: Frederick Winter | Associate Director, Capitol Archaeological Institute
Lecture Description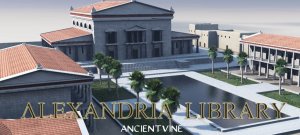 The fabled lost library of ancient Alexandria was more than a collection of books: It was a temple to the Greek muses that combined a museum and library. It became the great center of learning and cultural preservation in the Hellenistic era, the centuries that bridged the gap between the death of Alexander the Great and the advent of Rome as the central power in the Mediterranean world.
Founded by Alexander's successor kings in Egypt, the Ptolemies, it was conceived as a vehicle for bringing Greek culture to Egypt. The Library became a magnet for Greek scholars from throughout the world who made astounding achievements in astronomy (including the recognition of the heliocentric solar system by Aristarchus of Samos), topography (the measurement of the circumference of the earth by Eratosthenes of Cyrene), poetry (the epic Argonautica by Apollonius of Rhodes), and other fields of learning.
Reservations are not required. Fees per lecture are: free – high school students; $5 – Residents of CES Life Communities, college students and co-sponsors; $8 – BASONOVA & Bender JCC members, and; $10 – the general public. For more information, please contact BAF.JCCGW@gmail.com.
Subscriptions for the BAF 2017-2018 lecture season are coming soon.