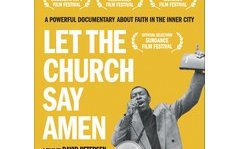 LET THE CHURCH SAY AMEN
March 22, 2017
7:00 PM
Purchase Tickets Through the Bender JCC
I hope to show how faith and community become an essential source of strength for those who want to create lasting change in a society that has remained indifferent to them. (David Peterson, PBS Independent Lens)
There will be a Q&A session immediately following the film with Ariel Levinson-Waldman, Tzedek DC Founder & Director-Counsel, and Pastor Charles McNeil.
Director/Producer/Editor: David Petersen
United States | 2004 | English | 87 Minutes
Awards: Awarded recognition from the Academy of Motion Picture Arts & Sciences as one of the "outstanding documentaries of 2004" and screened in its 2004 Contemporary Documentary Series | Official Selections for the Sundance Film Festival & Berlin Film Festival
Synopsis
Over the course of a year, Let the Church Say Amen chronicles the daily life surrounding World Missions for Christ Church in the Bloomingdale neighborhood of Washington, D.C. Like many urban communities that haven't benefited from America's prosperity, these citizens face challenges that would be shocking for any U.S. city, let alone that of the nation's capital; rampant drug abuse, unemployment, poverty, homelessness, and violence.
Yet the strength of this community comes from the powerful faith of a storefront church of modest resources but great spiritual power. Years ago the space was a corner store, now it serves as a sanctuary where members gather every Sunday to sing, pray, testify and work through faith to change the community.