Inaugural Arthur H. Silverman3 v 3 Basketball Tournament
June 4, 2017
Games start at 9:00 AM
about the tournament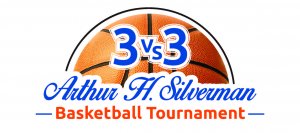 Honoring the lasting legacy of Arthur H. Silverman, we are hosting a double-elimination style 3 vs. 3 basketball tournament. Every team in the bracket is guaranteed to play at least two games!
Teams must consist of 3-4 players and each player must be at least 18 years of age.
This tournament is limited to the first 20 teams to register. You may register as a team or as a free agent.
Coming Soon: Tournament Rules || Tournament Bracket & Schedule
TEAM REGISTRATION IS CURRENTLY SOLD OUT!
1st Place: $1,000 CASH
2nd Place: $500 CASH
Other prizes include: Washington Wizards Tickets | Washington Nationals Tickets | Raffle prizes
Cost: $60 Per Team* | $20 Free Agent
*Includes tournament t-shirt and hat for each player

Life and Legacy of
Arthur H. Silverman
Arthur H Silverman, a lawyer and lifelong sports enthusiast, was a high school and college basketball player whose love of the game was undiminished throughout his life. He instilled in his children and nephews and nieces a competitive spirit, and a drive to win matched only by an abhorrence for losing.
Along with devotion to family, the Greater Washington community, and country, he cared deeply for the Jewish people and the land of Israel. He would be honored that this tournament is held on the basketball court that bears his name.