Bringing Israel to the Community
Israeli Tech Camp at the Bender JCC of Greater Washington
All in Hebrew!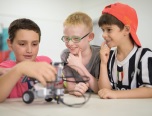 Session Dates:
Session 3 (3 Weeks) | July 24 – August 11
The perfect mix of cutting edge technology workshops and outdoor summer fun!
Design your future in robotics, 3D modeling, coding, gaming, photography and more! Learn more about the extra value of our camp!
Camp includes a Hebrew immersion program, Israeli staff (Shlichim), and all the fun and excitement of the BIG IDEA program.
This camp program is designed for students in grades 2-7.
CHECK OUT OUR AMAZING WORKSHOPS!
CLICK HERE TO REGISTER FOR BIG IDEA
Discounted Overnight International Camp in Israel for JCC BIG IDEA Participants
Going to Israel this summer? Participants of JCC BIGIDEA camp get a 20% discount for BIGIDEA overnight international camp in Israel!
Two magical weeks away from home together with 900 kids and teens from all over the world! Click here for more information.
For more information, please fill out the form below or call the Camp office at: 301-348-3883

קייטנה טכנולוגית ישראלית בעברית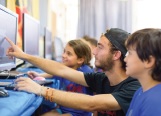 Israeli Tech Camp at the Bender JCC of Greater Washington 2017 2nd-7th, לעולים לכיתות
השילוב המושלם של חדשנות טכנולוגית, יצירתיות וכיף אדיר. תעצבו את העתיד
ברובוטיקה, תלת מימד, תכנות, גיימינג, צילום ועוד. תכנית דוברת עברית, צוות שליחים ישראלי והחוויה המדהימה של מחנות BIG IDEA.
!לחצו כאן לרשימת הסדנאות המלאה
לחצו כדי לקרוא עוד על הערך המוסף של המחנה


Request More Information About BIG IDEA