Ramon Tasat in Concert honor of Israel's 70th
Sunday, ​January 28, 2018 4 PM
KOL SHALOM
9110 Darnestown Rd, Rockville, MD 20850
Click Here for more information 
Gran ​Fondo ​New ​York
Friday, ​April ​27, 2018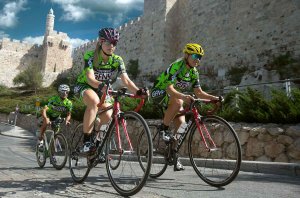 The ​world's ​premier ​cycling ​series, ​Gran ​Fondo ​New ​York ​(GFNY), ​is ​coming ​to ​Jerusalem, Friday, ​April ​27. ​You ​can ​be ​part ​of ​this ​challenging ​and ​competitive ​event ​as ​you ​ride through ​the ​scenic ​roads ​of ​Jerusalem ​hills. ​The ​race ​begins ​at ​the ​Jerusalem ​Arena, ​from there ​you ​will ​ride ​just ​
outside ​Jerusalem's ​Old ​City, ​among ​iconic ​landmarks ​dating ​back more ​than ​3,000 ​years. ​The ​Jerusalem ​streets ​will ​belong ​to ​you ​as ​you ​race ​to ​make ​your own ​history.JCC Members will receive a 10 percent discount on registration. You can read more about Gran Fondo here.
Giro D'Italia Big Start 2018 – Cycle Through Israel!
May 2- 9, 2018
Come see the Giro in the Holy Land!
Watch the first three Giro d'Italia stages
in Jerusalem, along the Mediterranean
and through the desert
Bike some of Israel's most scenic routes
and varied topographies
Fully-supported rides led by expert
leaders with transport from start to finish
First class hotels
Breakfast daily and six dinners including
festive Farewell Dinner
Bring own bike or rent aluminum/carbon
bike
Specially designed group riding jersey
Space is limited
Click here for registration information!
MentorPrize seeks Mentors to serve the community
MentorPrize recruits mentors for various non-profit organizations in the Washington region that serve a broad range of constituencies — from at risk-youth to immigrants struggling to gain a foothold in the job market. It is aggressively working to identify quality mentors for its partners, which is why it is reaching out to the Bender JCC community.
Research confirms that mentoring relationships have powerful positive effects on mentees in a variety of personal, academic and professionals situations. The benefits extend to the mentors as well — improving their morale, communication skills and emotional well-being.  But finding a meaningful mentoring opportunity can be daunting given the region's dizzying array of programs. MentorPrize has taken the time to assess dozens of these programs. It is well-positioned to match you with a program that suits your interests and takes into account your time constraints and preferred location.
Go to www.mentorprize.org for more information or fill out a MentorPrize application.  Are you ready to make a difference?
Disability Partnerships
Disability Partnerships is a 501(c)(3) nonprofit organization based in Rockville, Maryland that seeks to improve the quality of life for persons living with physical disabilities. They created a survey on the health and wellness needs of the physically disabled in our area. Click here to take the survey.
Innovate. Create. Lead. If you are a high school student and are interested in developing your leadership and professional skills while working with leading experts on tangible projects, you are IAC Eitanim! Learn from mentors in marketing, television news and CEO's. Apply today by visiting www.israeliamerican.org/eitanim!
For more information, contact: anatk@israeliamerican.org | 301-348-7308
Experiential Education & Jewish Cultural Arts Master's Program
at George Washington University is Currently Accepting Applications!
This is the only master's program of its kind in the United States. We offer an intensive 13-month, cross-disciplinary curriculum combining coursework in Jewish cultural arts, experiential education and museum education. Graduates will be prepared for careers in Jewish museums and arts institutions, JCCs, college campus organizations, summer camps, and other innovative educational and cultural settings.
Qualified applicants receive up to 85% tuition support, thanks to the generous support of the Jim Joseph Foundation and George Washington University.
Partnering theory with practice, and the classroom with fieldwork, the EE/JCA curriculum enables students to become competent, creative, and reflective professionals. The program:
Inspires students to develop exciting and relevant programming for a range of audiences
Offers a year-long series of internships at cultural arts and educational institutions
Develops professional skills including budgeting, grant writing, workplace collaboration, and effective communication
*Applications need to be submitted by February 1 for funding consideration.
For more information visit: gsehd.gwu.edu/programs/masters-experiential-education-and-jewish-cultural-arts
Audition for the Local JewKvox A Cappella Group
Auditions held on a rolling basis | Email bio and questions or visit www.jewkvox.com